Education
Importance of CLAT Mock Test Series in Exam Preparation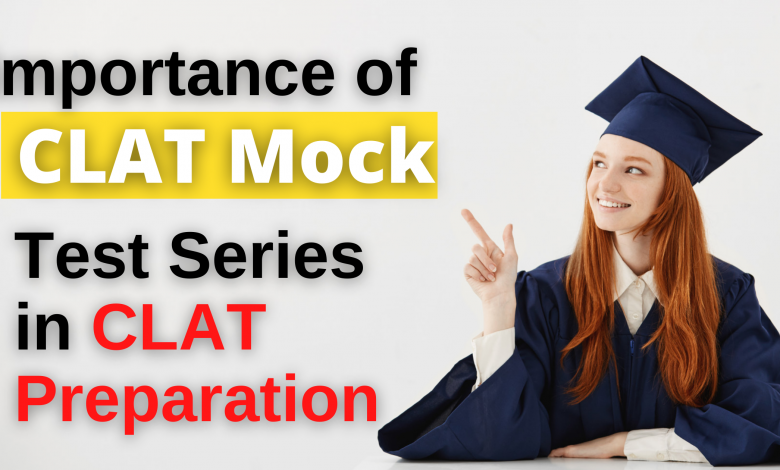 Like any other competitive exam, the mock test series is an essential part of CLAT exam preparation. Browse through these top 6 benefits to know why you should include CLAT mock tests in your daily study routine.
CLAT preparation demands intelligent strategy and disciplined hard work. No matter what you do, a comprehensive preparation plan should be clear in your mind when you start preparing. Coaching centres nowadays keep coming up with new strategies to help students prepare better and succeed in their exams. The most recent and most effective tool for CLAT exam preparation is CLAT online mock test.
These test series consist of a number of mock tests for the students conducted online or offline at regular time intervals. In the initial stages, these mock tests are prepared either unit-wise or topic-wise, but in the later stages, the entire syllabus is covered briefly. Some coaching centres also have different packages for such mock tests, which are classified according to their subject matter and syllabus coverage, to help students choose them properly to improve their preparation.
Benefits of CLAT Mock Test Series
Recently, taking mock tests has become an integral part of the CLAT exam preparation strategy for the students. This is the closest to the exam like experience that the students go through to prepare for the actual exam. Over the years, researchers have found that attending mock tests regularly has many benefits for CLAT aspirants. Here are some of them:
1. Builds Stamina for Pressure
The most important factor in determining the final score of a student in the CLAT exam is their ability to work and work under pressure. Every candidate works hard when it comes to exam preparation. But in the end, if you can't handle the stress of sitting in a silent classroom with clocks to your ears and trying to remember the answers, you won't do well in the exam. Hence, mock tests for CLAT, whether offline or online, help students to evaluate their performance in a constrained environment. You can also take CLAT online coaching for CLAT preparation. This is the kind of exercise that will help a CLAT aspirant in their final exam.
2. Improves Accuracy
When it comes to exams with negative marking schemes, such as the CLAT exam, it doesn't matter how many questions candidates test, but it is their accuracy that makes or breaks their score. Mock Tests authentically help the students to critically assess and improve their accuracy rate as they attend mock tests regularly. Better accuracy allows students to score better and perform better in their final CLAT exam.
3. Helps in making better exam strategy
The strategy to attend to the questions in the exam is as important as the preparation strategy. If a candidate knows all the answers but fails to manage the time and does not attend to the most important questions on the paper, they will still fail. Participating in regular CLAT mock test series helps the students to develop better paper solving strategies like deciding which section to attempt first and which section to leave for last. When students have several papers to solve, they can also use and improve paper solving strategies until they find the one that works best for them.
4. Identify Your Weak Areas
Participating in regular mock tests helps the students to understand and identify their weak areas. Knowing where they are lacking is essential to better tailoring the curriculum to the parts that need more attention and to save time by not spending too much on the parts that are right and which need more. Attention is not required.
5. Effective Amendment
After preparing the entire syllabus, appearing in mock tests acts as an effective medium for revision. Answering questions about the topics in the syllabus also helps the students to identify the depth of their preparation. It also helps them to identify which topics or units need to be studied again in case of inability to answer the relevant questions.
6. Boosts Confidence
One of the most important benefits of participating in mock tests is that students increase their confidence when they answer the questions and see their scores improve with participating in more and more tests. They feel a sense of accomplishment when they finish a certain part of the course properly. They are also able to realize that scoring well in the so-called tough CLAT exam is not a totally unacceptable task and with hard work and practice, they can aim for a better score and achieve the same.
Bottom-line
Considering the need of the hour, many CLAT 2022 coaching centres are now conducting CLAT mock test series online, which is additional icing on the cake. I attended with discipline and proper preparation, these online mock tests can save a lot of time, effort and fuel. However, a lot of students still prefer offline tests. Every student should attend at least one of each to find out which one works best for them and helps in their exam preparation.
The best option is to attend mock tests in the same coaching where you are preparing the syllabus. However, many coaching centres offer different packages for CLAT mock tests both online and offline, which help students who are preparing on their own or at home through video lectures, online classes, etc.