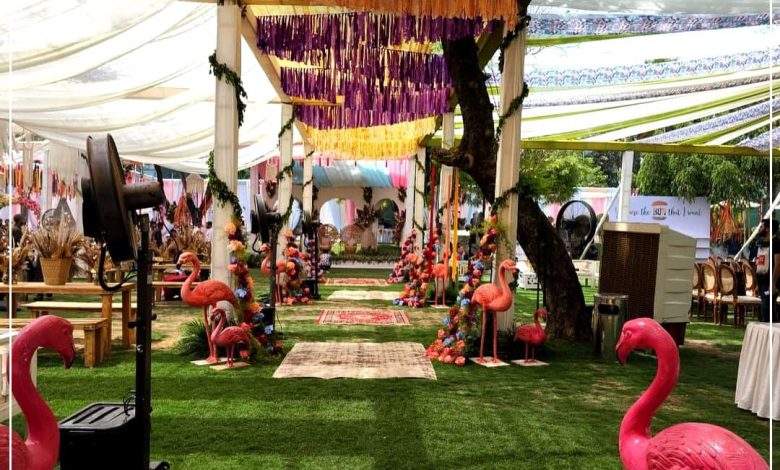 The city of love is set on the scenic banks of the Yamuna, and it is one of the most sought-after destination wedding locations. Agra offers many enticing and romantic venue possibilities, and a wedding in the city of love will no doubt strengthen the bond between your souls!
Moreover, it is quite close to the heart of the country, Delhi. If you hope for an enchanting destination wedding venue Agra, near Delhi is a spectacular choice. It will be enchanting to tie the knot with the pinnacle of love in the backdrop.
With that, let's take a look at some handy tips for planning your wedding.
Understand your budget and establish priorities.
This is the first and most essential stage, so you need to know what kind of a budget you have and what factors are most important to you. If you don't want to give up on photography, you may have to give up on the lavish design.
Also, keep in mind that the majority of your spending will be on your chosen venue, as well as reservations and guest accommodations.
Carry out preliminary scouting.
While you will definitely visit and inspect the venue before confirming it, try to revisit it three months ahead of the wedding with the decorators to organize the setup.
Visualize and plan which events you want to hold in which area, how space will be used for decorations, and so on.
Bring in local merchants.
Try and book all of your wedding providers from your destination wedding venue near Delhi, where you will get married.
Not only will it save you money on their travel and lodging, but also allow you to properly coordinate with them. If you can't locate any decent local sellers, seek suppliers that are willing to travel at their own expense.
Stay and schedule events at the same location.
Now, this is to avoid moving guests from one location to another. Moreover, you are more likely to have larger savings if you book a single destination wedding venue near Delhi for both your accommodation and your wedding celebrations.
Maintain a wedding diary.
When you are planning everything on your own, it is critical to write everything down. From the guest list to the progress of vendor payments, payment contact information, and travel arrangements.
Make a list of everything! You can have a wedding planner diary or make an online spreadsheet that you can quickly update with your phone. Always have your wedding diary on hand.
Delegate minor responsibilities to friends and relatives.
You will certainly have a lot going on! So, it is a good idea to entrust relatively small jobs that involve detailed attention to friends or family.
This includes distributing welcome kits to guests and purchasing wedding gifts and favors. Delegate these responsibilities with timelines just so they take them seriously.
Make a wedding website that serves multiple functions.
A wedding website will make many things easier for you.
From providing area maps to the destination wedding venue near Delhi and weather forecasts to airport data and other details you would like your visitors to know, include it all on the website.
Ensure provisions for your guests' comfort.
Whether it's providing wheelchairs for the disabled and elderly, or confirming there are adequate accommodations, your guests must feel at home.
Use reputable courier services to transport 'excess bags.'
It's not a predicted circumstance, but you should be mindful of it. Extra baggage costs a fortune on flights, so it's best to send extras to the venue through courier.
This is a risky option, but if you find a reliable courier service nearby that you have used for years, adopt it.
Plan ahead of time to prevent turmoil.
Delegate rooms to visitors before they come to prevent last-minute pandemonium and confusion. Account for everyone and keep a few extra rooms prepared.
Endnotes
A destination wedding is an exciting idea, and knowing that you'll be getting married in Agra will be very exciting!
Jaypee Palace Hotel & Convention Centre: Your Dream Destination Wedding Venue in Agra
Weddings at the Jaypee Palace Hotel & Convention Centre become extra memorable, owing to the wide choice of specialized services available to ease the burden off your shoulders.
The venue's marriage halls in Agra are among the finest in the city. the wedding preparation & packages are unique in terms of details and inclusions.
The Jaypee Palace Hotel in Agra provides an ideal setting for a wedding that is both intimate and elegant.
Agra's Jaypee Palace Hotel is capable of hosting opulent weddings in a variety of sizes, thanks to its five elegant interior spaces and seven beautiful outdoor settings.
Choosing the Jaypee Palace Hotel & Convention Centre as your destination wedding venue near Delhi ensures that your big day will be just perfect.
Read more: – Five Sarees To Rock This Wedding Season.