Home Improvement
Trendy and Vibrant Table Decor Ideas to Try for Every Occasion
Tables for home
Table decoration is what gives tension and stress to everyone whenever a festival or an occasion arrives. Everyone has to worry about ways to decorate tables and give them a look that is highly beautiful and also trendy look. The occasion will also influence the way you set your table. It doesn't matter if the event is a wedding, a birthday party, or something else. It might just be a regular family gathering. Whatever the occasion, make sure your plain wooden table set is acceptable.
Take note of the color motifs and themes as well. This will fit with your dining setting. You have to also see if the setting is matching the look and decor that has to go with the occasion. Here are a few ways that wooden tables can be decorated in a very vibrant and trendy look, for any occasion, be it Diwali or Holi, that will give a look that will be appreciated by all. So, let's Begin.
For Diwali
The festival of lights brings a lot of enthusiasm and joy, but stress for homeowners, as the biggest thing that stresses everyone is, how the decoration of a wood table would be? Well, here are a few tips that can help you with the same.
Since the festival is all about lights, the best thing that one can do is to add fairy lights, candles, and lots of flowers to give your home that flowery fresh look. Well, this decoration can also go for wooden tables for Christmas. No matter the festival, one can always have a beautiful decoration for their table decoration with ease, for enhancing the look of their homes as well.
For Holi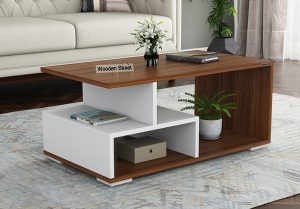 This colorful festival marks the beginning of a new year and is also a festival, celebrating the love of Goddess Radha and Lord Krishna. Wood tables can be decorated in various ways that one can easily work towards adding colors to increase the beauty and look of the table. One can add a plate of colors, some marble bows filled with water and some rose petals, and also, do not forget the glass filled with that 'thandai'. Just chill and relax back and enjoy the fact that how beautiful your table looks.
For Janmashtami
When it comes to birthdays, everyone does get excited right? Guess who else's birthday everyone gets excited about? Yes, you guessed it right! It is none other than our most beloved Lord Krishna. So decorating a wood table for his birthday is very special. One can add a beautifully decorated Idol of lord Krishna and, and add various flower vases with reals and artificial flowers.
On a wooden table, one can also add fairy lights or LED lights, that will set the mood and also make it look very beautiful. Well, you can go with all of these looks and make it look appealing and beautiful, so that if he's appealed, he might give you a boon!
For Makar Sankranti
The festival of kites, where everyone is locked to their terrace to fly colorful kits, You can have the enjoyment of seeing them fly if you do not know how to. For This, you will have to oil up your joints a bit. Carrying the tables to the terrace is also very important for the decoration. Placing a plate full of that 'til ke ladoo' and those colorful kites. And yes, do not forget that lantern that you'll fly at night.
Key Take Away…
These are just a drop from the ocean, you can decorate your table the way you want to and give your home the look that you desire. All of this will give a brief idea of what you can do with the wooden tabletop decoration.
Now, if you are thinking that you got to know ways to decorate your table beautifully for a few festivals but where are you gonna find those tables from? Then, you should check out the various online websites, that are highly trusted by all. They also sell the best quality wooden tables online. So, if you plan to buy a wooden table online at low prices go check these online websites where you can get the best table according to your choice.