Business
Trending
Planning to Get a Car? Know Everything About a Used Car Loan Now!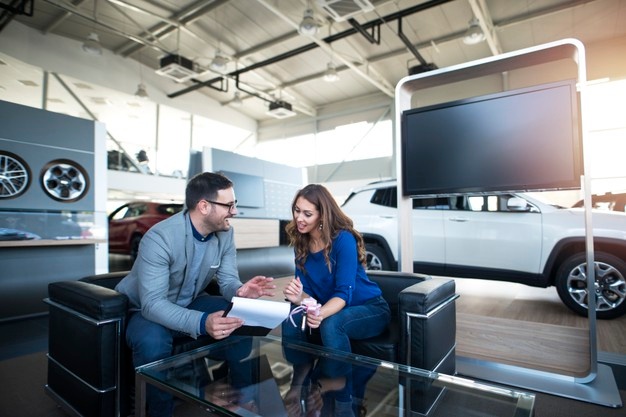 Are you planning to get a car but worried about the heavy down payment, which can dig a hole in your pocket and break your bank account? Well, you don't have to take any tension about that as today we are going to introduce you to the fantastic service of used car loans.
A used car loan is one of the best ways to finance your car and fulfil your dream of buying the car of your dreams. In this post, we are going to give you detailed information on second hand car loan interest rate, their eligibility criteria, necessary documentation, and a step-by-step guide on the application procedure.
What Are the Features and Benefits of a Used Car Loan?
Here's an overview of the benefits and characteristics of a used car loan to help you see why it's one of the best methods to acquire your ideal automobile if you're still unsure about whether you should buy a used car.
Any vehicle costing between 50,000 and 50 lakhs rupees is eligible for used car financing.
You don't have to offer any security because the vehicle is held in trust until the loan is fully repaid.
You may choose from several repayment choices throughout a flexible loan duration of up to 5 years to pay back the loan balance.
With a 90% loan-to-value ratio on used car loans, you may easily purchase any model without blowing all of your money.
It provides door-to-door service and requires minimum paperwork.
Due to the reasonable interest rate and flexible repayment period on the used car loan, this loan provides manageable EMIs.
The loan approval procedure is swift, and the application process is straightforward.
Whether you are working as a salaried employee, a sole proprietor, or another type of employee, you are eligible to apply for this loan.
What Is the Interest Rate on a Second Hand Car Loan?
The amount you pay to your lender over and above the principle amount is known as the second hand car loan interest rate. The year the car was made, and your car's age have an impact on its market value when it is repossessed. Therefore, this must be considered. Older cars have less market value, so the borrowing rate is greater. Depending on the financial institution, different used car loans have different interest rates. Apart from that, various other factors affect your interest rates. Here is a list of those factors:
Loan term: Longer loan terms result in lower interest rates. If the tenure is short, a significant fee is assessed. As a result, if you have a lengthy tenure, your EMIs will be lower.
Age of the vehicle: If your car is repossessed, it will be crucial to consider how old it is because this will affect its market value. Older cars have less market value, thus the loan rate charged is greater.
Down payment and loan size: The interest rate charged climbs in tandem with the loan amount. If you put down a substantial sum of money, lenders will see you as a genuine borrower, and your interest rate will be lower.
Credit history: Your trustworthiness is evaluated before loan approval. Several things influence it, including your existing and closed credit accounts, the amount of time you've used credit, and your payment history.
Debt-to-income ratio: This ratio tells us how much money you owe to different lenders in comparison to your overall income. As a result, if your ratio is low, you may be able to qualify for a lower interest rate.
How to Know if You Are Eligible for a Used Car Loan?
To know if you are eligible for a used car loan or not, have a look at the eligibility criteria given below:
You must be an Indian citizen.
If you are a salaried individual, your age should be between 18 and 60.
If you are a self-employed individual, your age should be between 18 and 65.
You must have worked in a steady job for at least one year.
If you are self-employed, you must have been in your current business for at least one year.
There is no such thing as a predetermined monthly salary.
What Documents Are Necessary While Applying for a Second Hand Car Loan?
The list of necessary documents while applying for a second hand car loan is as follows:
Application form
Registration certificate of the vehicle.
NREGA Job Card/ Aadhaar Card/ Passport/ Government of India issued photo ID/ Driving license/ Voters ID for Identity proof. (any one)
Aadhaar Card/ Driving Licence/ Lease or Rent Agreement/ Voter ID Card/Utility Bill/ Letter from National Population Register with Name and Address Details as address proof. (any one)
Registered Lease Agreement/ Utility Bill/ VAT/ Excise/ Service Tax Registration/ Establishment and Shop Registration Certificate/ MSME or SSI Registration Certificate as as business proof. (any one)
For age proof, submit a Passport/ Driver's License/ Birth Certificate/ PAN Card (any one)
For occupation proof submit Appointment Letter/ Joining Date on Salary Slip/ ITR/ Form 16/ Experience Certificate/ Relieving Certificate. ( for salaried individuals).
For occupation proof, submit Establishment & Shop Certificate of Registration/SSI or MSME Registration Certificate/Sales Tax/VAT Registration (for self-employed individuals).
For verification of your signature, submit a copy of your Passport/ Bank's Verification/ PAN Card. (any one)
Latest Salary Slips/ Bank Statement/ Form 16/ ITR/ Audited Balance Sheet/ Profit and Loss Statement for income proof. (any one)
How to Apply for a Used Car Loan Easily?
Follow the steps below to apply for a used car loan:
Visit the used car loan website on the browser.
Use the online EMI calculator to estimate the EMI by adding the loan amount, rate of interest, and loan tenure.
Click on "Apply for a Loan".
After clicking that, an application form will come up on your screen.
Fill in all the necessary details like name, phone number, email address, state, city, and all the other information.
Then submit your application form.
The management will review your application after you submit it.
When your loan is approved, the loan amount will be deposited into your bank account as soon as possible.
Now you are well equipped with all the necessary information for a used car loan. To get the lowest second hand car loan interest rate, we recommend that you pay close attention to the factors influencing it. The reason for this is that the lower your interest rate, the lower your EMI.