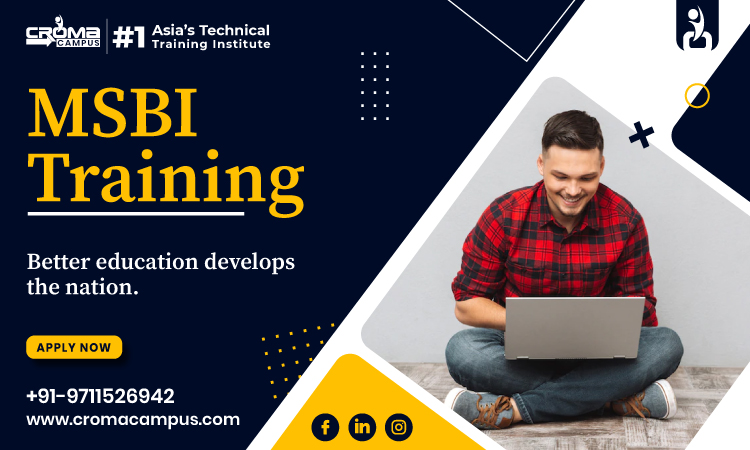 As data is increasing daily, Business Intelligence is essential for firms to manage this data. Thus, this intensifies the conflict between MSBI and Power BI. However, MSBI and Power BI are prominent business intelligence solutions adopted by multiple organizations. Also, remember that MSBI is an ETL-capable solution. It can extract, transform and load data, and organize and visualize multidimensional data. On the other hand, Power BI is a data analytics tool that provides data modeling features such as data preparation, data discovery, and the creation of interactive dashboards. Thus, comparing both of these goods would be unfair.
Microsoft Business Intelligence: Meaning
MSBI, or Microsoft Business Intelligence, is an ETL tool capable of visualizing and organizing multidimensional data. Also, it can extract, transform, and load (ETL) data points. Thus, MSBI Training Institute in Gurgaon makes every individual stand out from the crowd and trains them to enter the professional world of business intelligence.
In addition, this tool essentially converts raw data into business information. However, MSBI has three components to assist customers in implementing ETL capabilities:
SQL Server Integration Service or SSIS

SSAS or SQL Server Analytics Service

SQL Server Reporting Service or SSRS
Power BI: Meaning
Power BI is a Microsoft Business Intelligence application that offers modeling features such as data discovery, data preparation, and the production of interactive dashboards. It can assist users in making sound business decisions. It can show data in any format, including photos, videos, Excel sheets, and a centralized database system. However, you can divide Power BI into several parts:
Power BI Desktop

Service

Mobile Apps
Point of Difference: MSBI v/s Power BI
The following criteria distinguish MSBI from Power BI:
How to install MSBI and Power BI creates a primary difference between these two BI solutions. MSBI is an on-premises application that users can install on their servers and workstations. On the other hand, Power BI is a cloud-based service hosted on the vendor's servers that customers may access via software, web browsers, and apps.
With the expansion of cloud-based services, the risk of data theft and other issues is becoming more prevalent. Many IT leaders think that the growing use of cloud-based services will make a security nightmare for them. However, MSBI, as an on-premises solution, has reduced issues with information security and cloud protection.
On the other hand, the cloud protects your data even if your on-premises facilities experience a hardware breakdown. Moreover, Power BI has several cloud-related tools that allow you to access data and distribute reports over the internet.
MSBI with SQL Server Reporting Service uses a drill-down method for comprehensive information based on a few parameters, which allows users to make better decisions and assess the market success of a product. On the other hand, Power BI enhances the abilities of SSRS in MSBI and produces an excellent visual representation of data. Also, its data modeling features and rich graphics enable non-technical users to create and distribute attractive reports.
MSBI is more complex and manual to use than the latest BI applications. Microsoft was first introduced in 2004 when user experience was not so important. On the other hand, Power BI came to light in 2017 to give a simple interface that even newbie users can understand and utilize to create reports or dashboards.
MSBI is accessible for free for 180 days. Following that, consumers must pay US $931. However, MSBI charges US$10 per user per month for the pro version. Also, customers must pay the US $5,000 for unrestricted access to the premium version.
Moreover, Power BI is available to use for free for 60 days, after which each user must pay the US $9.99. 
In addition, the monthly fees for Power BI Premium are US $20 per user and US $4,995 per capacity.
On the other hand, Power BI Desktop allows customers to generate and share reports online for free. It is best suited for small enterprises and startups that cannot afford such expensive software and resources.
Conclusion
Hopefully, you may now differentiate between MSBI and Power BI. Business intelligence monitors industry trends and derives actionable information to help businesses make sound decisions. Power BI is the most popular tool for displaying complex data and delivering a proper knowledge of the company. Even though MSBI has found a home in most offices, you may become proficient with this tool with the help of MSBI Training.